Intraoperative Technologies
Research group leader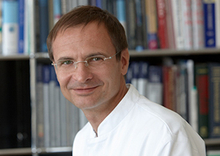 Name / Titel

Mail
Phone
Staff
Prof. Dr. Claudio Pollo
PD Dr. Philippe Schucht
Dr. med. Kathleen Seidel
Dr. med. Michael Murek
Dr. med. Johannes Goldberg
Research focuses
Imaging and functional neuronavigation
Intraoperative monitoring and mapping
Methods
nTMS; motor- and speech-mapping
Evoked potentials (motor, somatosensory, visual and acoustic)
Language tests during surgeries (awake surgery)
Intraoperative imaging with CT, MR
Short description
Computer-assisted navigated surgeries are part of the daily routine. Integrating functional information requires special imaging techniques and time-consuming individual planning. In the future, postoperative imaging will become rare. Instead, the imaging that confirms the surgical result will be performed during the operation. This change is of great value for the patient: suboptimal results can be corrected in real-time during surgery. The surgical procedure is surveyed more carefully and frequently. In neurosurgery, different procedures are used (high-field MRI, CT, angiography, ultrasound, and fluorescence diagnosis) to gather information, and these should be implemented in the navigation of an integrated operating room. Advances in intraoperative imaging and monitoring have been shown in several prospective, multicentric studies. Some of them being the microscope-integrated Blue 400 (5-ALA), the infrared technology 800, and the ICG angiography.
Continuous monitoring of functionally important systems, however, is not achieved by imaging or navigation. During the surgery, spatial relations are shifted due to changes in the flow of cerebrospinal fluid, opening of the dura mater, and surgery on tumors. Thus, the preoperative images of navigation become inaccurate during surgery. Also an intraoperative MRI scanning or CT depicts only a snapshot that may be critical to the success of the surgery on the tumor. However, it doesn't provide continuous monitoring and security. This is only possible by intraoperative electrophysiological monitoring or mapping. Through cortical stimulation and peripheral dissipation (motor-evoked potentials – "MEPs") or through peripheral stimulation and cortical dissipation (somatosensorically evoked potentials – "SEPs") respective tracks can be monitored at whatever level surgery is taking place (cortex, medulla, brain stem, spinal cord, spine). Monitoring and mapping contribute much to increased patient safety. New techniques are currently being investigated in our clinic.
We recently developed a subcortical mapping method to alow continues stimulation during brain tumor surgery. This was achieved by integrating the stimulation probe in the surgical instrument (suction probe) and even coupled with an acoustic alarm sound. That way the distance to the CST can be assessed realtime. The method is combined by continuous monitoring of cortical elicited MEP. Now we focus on making this IOM method feasable for the common user during brain tumor surgery.
Our group focus on establishing safe methods for preservation of vision during brain tumor resection. We are developing intraoperative flash light VEP paradigms as well as mapping methods. Another method is focusing on preservation of vegetative bladder function during surgery of the conus medullaris.
Future targets are the establishment of new mapping methods for language, motor skills, and vision as well as the examination of the correlation and significance of different mapping methods. In the field of imaging, we want to investigate the visualization of tumor cells and vessels using fluorescence technologies.