Division of Neuropediatrics, Development and Rehabilitation
Research group leader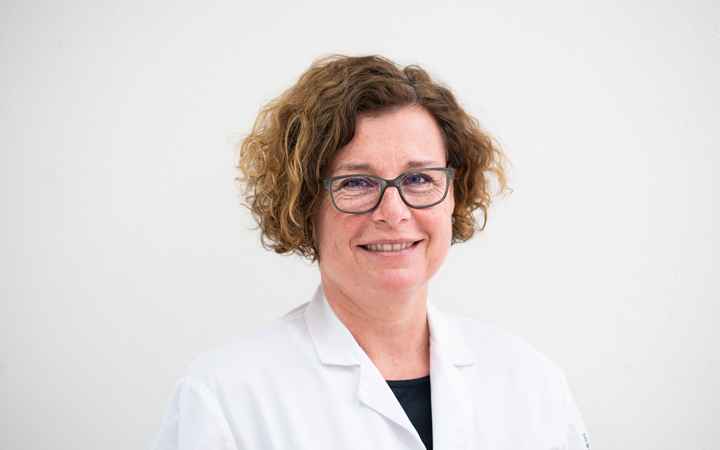 Name / Titel

Mail
Phone
Staff
Prof. Dr. med. Andrea Klein
Prof. Dr. nat. Karen Lidzba
Prof. Dr. phil. Regula Everts
Prof. em. Dr. med. Maja Steinlin
PD Dr. med. Sebastian Grunt
PD Dr. med. Iciar Sanchez
Dr. med. Gabriela Oesch
Dr. med. Sandrine Cornaz
Dr. med. Mária Regényi
Dr. phil. Leonie Steiner (Post Doc)
MSc Saskia Salzman (PhD)
MSc Kirstin Schürch (PhD)
MSc Anja Vossenkaul (PhD)
Dr. med. Daniel Brechbühl (PhD)
Dr. med. Robin Münger (PhD)
Research groups
Neuromuscular research group (PI: Prof. Dr. med. Andrea Klein)

Parti-CP Research Group (PI: PD Dr. med. Sebastian Grunt)

Swiss Neuropediatric Stroke Registry (SNPSR; Prof. em. Maja Steinlin, Dr. med. Gabriela Oesch)

PASTA Research Group (PI: Prof. em. Maja Steinlin)

Stem cell research (PI: Dr. med. Sandrine Cornaz)

Pediatric Oncology Study Group (PI: Prof. Dr. Regula Everts)

LOGA Study Group (PIs: Prof. Dr. Regula Everts, Dr. med. Matthias Gautschi)

Epilepsy Research (PI: PD Dr. med. Iciar Sanchez)
Research focuses
Neuromuscular Disease

Pediatric Stroke (Swiss Neuropediatric Stroke Registry)

Pediatric Neurorehabilitation

Stem cell research

Brain lesions in childhood

Pediatric Oncology

Pediatric Epilepsy
Short description
Our research focuses on the neurological and neuropsychological sequelae of children and adolescents with atypical development due to neuropediatric disease (i.e. neuromuscular disease, pediatric stroke, traumatic brain injury, oncological diseases, rare metabolic disease and others). We investigate the relationship between neural characteristics of the brain and neurological and cognitive outcome. Furthermore, we are interested to reveal mechanisms of neurorehabilitation and through this contribute to an amelioration of prognosis on the development of children and adolescents with neuropediatric disorders.
Neuromuscular research group
The 'Swiss registry for neuromuscular disorders' (www.swiss-reg-nmd.ch) collects medical information from people with neuromuscular disorders. The registry currently includes children and adults living in Switzerland who are diagnosed with Duchenne-Becker Muscular Dystrophy (DMD/BMD), Spinal Muscular Atrophy (SMA) and recently also merosin-deficient muscular dystrophy also called LAMA2-related muscular dystrophy (MDC1A respectively LAMA2). The Neuromuscular group also conducts industry sponsored trials in rare neuromuscular disorders in collaboration with the PedNet (currently Ciffreo and Lelantos in Duchenne Muscular dystrophy) and there are further trials in preparation in collaboration with the Clinical Investigation Unit - CIU.
The Swiss-Reg-NMD pursues the following objectives:
to register and to collect relevant health data of any patient affected by a neuromuscular disorder living in Switzerland
to facilitate the participation of patients in National and International therapeutic trials • to facilitate the establishment of study centers in Switzerland
to harmonize diagnosis and care on a national level (standards of care)
to establish a national platform for Post-Marketing Surveillance
Recent publications:
Henzi BC, Baumann D, Erni SJ, Lötscher N, Tscherter A, Klein A; Swiss-Reg-NMD Group. Effects of the COVID-19 Pandemic on Access to Education and Social Participation in Children and Adolescents with Duchenne Muscular Dystrophy in Switzerland. Neuropediatrics. 2023 Mar 30. doi: 10.1055/s-0043-1764434. Online ahead of print.
Stettner GM, Hasselmann O, Tscherter A, Galiart E, Jacquier D, Klein A. Treatment of spinal muscular atrophy with Onasemnogene Abeparvovec in Switzerland: a prospective observational case series study. BMC Neurol. 2023 Feb 28;23(1):88. doi: 10.1186/s12883-023-03133-6. Tscherter A, Rüsch CT.
Baumann D, Enzmann C, Hasselmann O, Jacquier D, Jung HH, Kruijshaar ME, Kuehni CE, Neuwirth C, Stettner GM, Klein A; Swiss-Reg-NMD group. Evaluation of real-life outcome data of patients with spinal muscular atrophy treated with nusinersen in Switzerland. Neuromuscul Disord. 2022 May;32(5):399-409. doi: 10.1016/j.nmd.2022.02.001. Epub 2022 Feb 9.
Casaulta, C., Messerli, F., Rodriguez, R., Klein, A., & Riedel, T. (2022). Changes in ventilation distribution in children with neuromuscular disease using the insufflator/exsufflator technique: an observational study. Scientific reports, 12(1), 7009.​​​​​​
Tscherter, A., Rüsch, C. T., Baumann, D., Enzmann, C., Hasselmann, O., Jacquier, D., ... & Wille, D. A. (2022). Evaluation of real-life outcome data of patients with spinal muscular atrophy treated with nusinersen in Switzerland. Neuromuscular disorders, 32(5), 399-409.
Baranello, G., Darras, B. T., Day, J. W., Deconinck, N., Klein, A., Masson, R., ... & Servais, L. (2021). Risdiplam in type 1 spinal muscular atrophy. New England Journal of Medicine, 384(10), 915-923.

Smeets HJM, Verbrugge B, Springuel P, Voermans NC; MDC1A Workshop Group. Merosin deficient congenital muscular dystrophy type 1A: An international workshop on the road to therapy 15-17 November 2019, Maastricht, the Netherlands. Neuromuscul Disord. 2021 Jul;31(7):673-680. doi: 10.1016/j.nmd.2021.04.003.
PASTA Research Group
There is increasing evidence that cerebral vasculopathies due to inflammatory process play a crucial role in childhood arterial ischemic stroke (AIS) and influence outcome. Retrospective analyses suggest improved outcome and less recurrence rate with steroid treatment. Thus, the objective of the PASTA trial is to show that children with first stroke event due to unilateral focal cerebral arteriopathy (FCA) treated with a combination of high dose steroids and aspirin will have better and quicker recovery of arteriopathy, better clinical functional outcome, and less recurrence rate compared to children treated with aspirin alone. The primary outcome is change in FCA Severity Score (FCASS) from baseline to 1 month compared between the two study arms. The PASTA study is the first randomized multicenter clinical trial in children with arterial ischemic stroke and will provide high-level evidence for most appropriate treatment of AIS due to FCA.
This project has been identified as the most important childhood AIS treatment trial by a Delphi survey of international paediatric stroke experts and is one of the most important research priorities identified by parents. In addition, the study will provide insights into the pathogenesis of inflammatory cerebral vasculopathies. The PASTA trial is supported by a project grant of the Swiss National Science Foundation.
PARTI CP
Cerebral palsy (CP) is the most common cause of motor disability in childhood. Participation, which is defined as involvement in a life situation, of children with CP is less when compared with their typically developing peers. The physical disability of the child may not only affect its own social life but also that of the entire family. Yet, it remains largely unknown how siblings of children with CP are restricted in their participation and how participation restrictions of individual family members affect participation of the whole family. In the care of children with CP, therapeutic measures aim at improving independence and participation. Since participation is closely linked to cultural environment, conclusions from studies in other countries cannot be generalised to Switzerland.
Our project's goal is to gather foundational knowledge about how children with CP, their siblings, and their families as a whole experience participation in Switzerland, then use this knowledge to formulate evidence-based recommendations. Our study will provide details about individual aspects of participation of children with CP, their siblings, and their families in Switzerland. The perspectives of siblings and the family as a whole will be particularly relevant, as such research is also lacking internationally. Our study results will serve as a basis for family-centred approaches to optimise participation for children with CP, their siblings, and their families. Recommendations for physicians, therapists, teachers, and organisers of leisure activities will help adapt their services to these families' needs. This study is financially supported by a project grant of the Swiss National Science Foundation.
Recent publications
Belle FN, Hunziker S, Fluss J, Grunt S, Juenemann S, Kuenzle C, Meyer-Heim A, Newman CJ, Ramelli GP, Weber P, Claudia E K, Tscherter A. Cohort profile: the Swiss Cerebral Palsy Registry (Swiss-CP-Reg) cohort study. Swiss Med Wkly. 2022 Feb 21;152:w30139. doi: 10.4414/smw.2022.w30139. PMID: 35230014.
Morgenthaler T, Schulze C, Pentland D, Lynch H. Environmental Qualities That Enhance Outdoor Play in Community Playgrounds from the Perspective of Children with and without Disabilities: A Scoping Review. Int J Environ Res Public Health. 2023 Jan 18;20(3):1763. doi: 10.3390/ijerph20031763. PMID: 36767130; PMCID: PMC9913926.
Krieger B, Schulze C, Boyd J, Amann R, Piškur B, Beurskens A, Teplicky R, Moser A. Cross-cultural adaptation of the Participation and Environment Measure for Children and Youth (PEM-CY) into German: a qualitative study in three countries. BMC Pediatr. 2020 Oct 24;20(1):492. doi: 10.1186/s12887-020-02343-y. PMID: 33099320; PMCID: PMC7585231.
Simon-Martinez C, Kamal S, Frickmann F, Steiner L, Slavova N, Everts R, Steinlin M, Grunt S. Participation after childhood stroke: Is there a relationship with lesion size, motor function and manual ability? Eur J Paediatr Neurol. 2021 Nov;35:16-26. doi: 10.1016/j.ejpn.2021.09.010. Epub 2021 Sep 23. PMID: 34592642.
Swiss Neuropaediatric Stroke Registry
Within the scope of the Swiss Neuropediatric Stroke Registry (SNPSR) we collect epidemiological, neurological, cognitive and neuroimaging data of all Swiss children and adolescents suffering from stroke. This allows us to evaluate the sequelae of paediatric stroke, to enhance knowledge on the factors that influence outcome and to get some understanding of the process of cerebral reorganisation in the developing brain.
Recent publications:
Slavova, N., Muenger, R., Sanchez-Albisua, I., Regenyi, M., Oesch, G., Fluss, J., ... & Steinlin, M. (2023). Inflammatory Type Focal Cerebral Arteriopathy of the Posterior Circulation in Children: a comparative cohort study. medRxiv, 2023-04.
Everts, R., Bertato, S., Steinlin, M., Slavova, N., Grunt, S., & Steiner, L. (2023). Lesion size and long-term cognitive outcome after pediatric stroke: A comparison between two techniques to assess lesion size. European journal of paediatric neurology, 42, 126-132.
Abgottspon, S., Thaqi, Q., Steiner, L., Slavova, N., Grunt, S., Steinlin, M., & Everts, R. (2022). Effect of age at pediatric stroke on long-term cognitive outcome. Neurology, 98(7), e721-e729.
Abgottspon, S., Steiner, L., Slavova, N., Steinlin, M., Grunt, S., & Everts, R. (2022). Relationship between motor abilities and executive functions in patients after pediatric stroke. Applied Neuropsychology: Child, 11(4), 618-628.
Steiner L, Federspiel A, Slavova N, Wiest R, Grunt S, Steinlin M, Everts R. Cognitive outcome is related to functional thalamo-cortical connectivity after paediatric stroke. Brain Commun. 2022 Apr 28;4(3):fcac110. doi: 10.1093/braincomms/fcac110. PMID: 35611308; PMCID: PMC9122536.
Steiner, L., Federspiel, A., Jaros, J., Slavova, N., Wiest, R., Steinlin, M., ... & Everts, R. (2021). Cerebral blood flow and cognitive outcome after pediatric stroke in the middle cerebral artery. Scientific reports, 11(1), 19421.
Steiner, L., Homan, S., Everts, R., Federspiel, A., Kamal, S., Rodriguez, J. A. D., ... & Grunt, S. (2021). Functional connectivity and upper limb function in patients after pediatric arterial ischemic stroke with contralateral corticospinal tract wiring. Scientific reports, 11(1), 5490.
Wiedemann, A., Pastore-Wapp, M., Slavova, N., Steiner, L., Weisstanner, C., Regényi, M., ... & Schmitt-Mechelke, T. (2020). Impact of stroke volume on motor outcome in neonatal arterial ischemic stroke. European journal of paediatric neurology, 25, 97-105.
Stem cell Research
Neonatal brain injury, such as brain lesions due to prematurity, perinatal stroke or birth asphyxia, is the 1st leading cause of disability worldwide. Therapeutic options are scarce and mainly supportive. Human milk is the first and best-adapted food for human newborns and infants during the first year of life. Its benefits have been extensively studied over the past 100 years and include higher IQ in breastfed infants, fewer serious infections, reduced infant mortality rates worldwide, and reduced risk of breast cancer in mothers (Victora et al., 2016). Recent evidence describes the presence of a cellular subpopulation with stem cell properties. Preliminary FACS analysis (unpublished own data and published data) of primary breast milk samples at different time points could show the presence of approximately 0.5-2% stem cells. If confirmed, these breast milk stem cells would represent ideal candidates for regenerative medicine in neonates with brain lesions.
Therefore, the objectives of our research are:
to confirm the presence and further characterize the exact cellular composition and heterogeneity of breast milk stem cells.
If this hypothesis is validated, we will design preclinical studies in vitro/vivo in animal models of perinatal brain injury.
This project represents a unique collaboration between neuropediatrics, neonatology and stem cell biology and will serve as the basis for several upcoming projects.
Recent publications:
Keskin, T., Bakaric, A., Waszyk, P., Boulay, G., Torsello, M., Cornaz-Buros, S., ... & Stamenkovic, I. (2020). LIN28B underlies the pathogenesis of a subclass of Ewing sarcoma. Cell reports, 30(13), 4567-4583.
Keskin, T., Rucci, B., Cornaz-Buros, S., Martin, P., Fusco, C., Broye, L., ... & Riggi, N. (2021). A live single-cell reporter assay links intratumor heterogeneity to metastatic proclivity in Ewing sarcoma. Science Advances, 7(27), eabf9394.Recent publications
Pediatric Epilepsy Research
A common problem in pediatric emergency departments is the neurological assessment of children with transitory altered mental status (AMS). The main neurologic causes are encephalitis and (non-convulsive) status epilepticus (NCSE). Proof of diagnosis of NCSE demands an EEG. A fast diagnosis and therapy are essential. A conventional EEG (cEEG) with 19 electrodes is time-consuming and not easy available in an emergency setting. Two-channel EEG (tc-EEG) is easy to install in an emergency setting and widely used in neonates. However, literature about its feasibility and especially sensitivity / specifity in non-neonates is lacking. We aim to investigate the use of tc-EEG I children with ASM. Before starting on an emergency setting, we will establish normal reference values and the suitable placement of electrodes.
In a second project, we aim to investigate to what extent anoxic epileptic seizures (AES) expand the phenotype of SNC8a-associated conditions. There is very little data on AES in the literature.
Recent publication:
Sanchez-Albisua, I. (2022). Bewusstseinsstörung auf der pädiatrischen Intensivstation: Ätiologie und Diagnostik. Zeitschrift für Epileptologie, 1-5.
Sanchez-Albisua, I., Umlauf, V. N., Kidszun, A., & Gautschi, M. (2022). Was ist bei neonatalen Anfällen zu tun?. Leading opinions-Neurologie & Psychiatrie, 6, 20-24.
Bruns, N., Sanchez-Albisua, I., Weiß, C., Tschiedel, E., Dohna-Schwake, C., Felderhoff-Müser, U., & Müller, H. (2019). Amplitude-integrated EEG for neurological assessment and seizure detection in a German pediatric intensive care unit. Frontiers in pediatrics, 7, 358.
Oncolocy Study
We investigate cognitive development in children and adolescence after cancer in a longitudinal way using research and clinical data. A focus of our research is on the neural and behavioural effect of cognitive and physical training on the development of children and adolescence with cancer - the Brainfit-Study. In detail, we assess the neural effect of cognitive and physical trainings on the development of our young patients by means of modern neuroimaging techniques, namely diffusion tensor imaging (DTI) and arterial spin labeling (ASL).
Based in the first insights into effective techniques in neurorehabilitation of young patients with cancer we now develop a novel training program for youth with cancer and present the training in the framework of a serious game via an App. The efficacy of the training program will be investigated in a random controlled trial, the Mio-Study (Metacognitive Intervention in Youth with Oncology). The Mio-Study is supported by a grant from the Swiss Cancer League.
Recent publication:
Kirstin Schuerch, Matthias Grieder, Valentin Benzing, Valerie Siegwart, Andrea Federspiel, Nedelina Slavova, Claus Kiefer, Jochen Roessler & Regula Everts (2023) How is Cerebral Perfusion Associated with Functional Outcome in Pediatric Cancer Survivors?, Developmental Neuropsychology, DOI: 10.1080/87565641.2023.2215360
Siegwart V, Benzing V, Spitzhuettl J, Schmidt M, Grotzer M, Steinlin M, Leibundgut K, Roebers C, Everts R. Cognition, psychosocial functioning, and health-related quality of life among childhood cancer survivors. Neuropsychol Rehabil. 2022 Jul;32(6):922-945.
Siegwart V, Schürch K, Benzing V, Roessler J, Everts R. Personal and Social Resources Are Linked to Cognition and Health-Related Quality of Life in Childhood Cancer Survivors. Children (Basel). 2022 Jun 22;9(7):936.
Benzing V, Siegwart V, Spitzhüttl J, Schmid J, Grotzer M, Roebers CM, Steinlin M, Leibundgut K, Everts R, Schmidt M. Motor ability, physical self-concept and health-related quality of life in pediatric cancer survivors. Cancer Med. 2021 Mar;10(5):1860-1871.
Benzing V, Spitzhüttl J, Siegwart V, Schmid J, Grotzer M, Heinks T, Roebers CM, Steinlin M, Leibundgut K, Schmidt M, Everts R. Effects of Cognitive Training and Exergaming in Pediatric Cancer Survivors-A Randomized Clinical Trial. Med Sci Sports Exerc. 2020 Nov;52(11):2293-2302.
Siegwart V, Steiner L, Pastore-Wapp M, Benzing V, Spitzhuttl J, Schmidt M, Kiefer C, Slavova N, Grotzer M, Roebers C, Steinlin M, Leibundgut K, Everts R. The Working Memory Network and Its Association with Working Memory Performance in Survivors of non-CNS Childhood Cancer. Dev Neuropsychol. 2021 Apr-Jun;46(3):249-264.
Spitzhüttl JS, Kronbichler M, Kronbichler L, Benzing V, Siegwart V, Schmidt M, Pastore-Wapp M, Kiefer C, Slavova N, Grotzer M, Steinlin M, Roebers CM, Leibundgut K, Everts R. Cortical Morphometry and Its Relationship with Cognitive Functions in Children after non-CNS Cancer. Dev Neurorehabil. 2021 May;24(4):266-275.
Spitzhüttl JS, Kronbichler M, Kronbichler L, Benzing V, Siegwart V, Pastore-Wapp M, Kiefer C, Slavova N, Grotzer M, Roebers CM, Steinlin M, Leibundgut K, Everts R. Impact of non-CNS childhood cancer on resting-state connectivity and its association with cognition. Brain Behav. 2021 Jan;11(1):e01931..